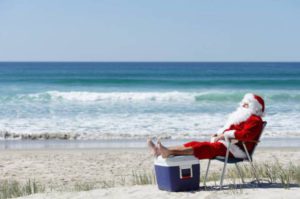 Home Alone is being broadcasted on TV, and this means that two of the most expected celebrations are near: Christmas and New Year. Even though these are international festivities, there are many differences depending on where they are celebrated.
In Argentina, for both Christmas and New Year, the starring actor is asado (barbecue). Usually, there is a whole preparation that starts several hours before the night of 24th or 31st. The designated cook may start the fire at 6 in the afternoon, while dinner is served at 10 pm. Thanks to all these hours, a knife and fork aren't almost needed to eat the meat –it's really tender. When it's 12 o`clock, a great display of fireworks can be seen from many houses. People exchange presents and make toasts.
A challenge for Santa in Argentina: "Papá Noel" wears the same winter clothing as in the US and UK, even though, it's summer and very hot here at Christmas time, about 34º C (93º F)!!!
New Year is an exciting time, but especially for Argentine underwear stores since there is a tradition of wearing pink underpants on the night of the 31st in order to have good luck in the year to come. As the years pass, this tradition is losing popularity.
At the North of the continent, it seems that there is not much to tell about US Christmas and New Year as they are widely known around the world: decoration, Christmas cards, Santa Claus, among other popular elements.
However, you may not have heard about the Christmas pickle. Some people use a pickle to decorate their Christmas trees. This custom involves hiding an ornamental pickle in the tree, and the one who finds it gets a reward.
Watching a peach drop: this does not refer to another version of how the law of gravity was created. In Atlanta, citizens gather to see how a giant peach drops while they countdown for the New Year. The peach is the State of Atlanta's symbol.
In the UK, they celebrate the Boxing Day. On the 26th of December, they go to a boxing ring and… Just kidding. It is not about fighting, but boxes. It is the day when boxes, which were collected for the poor, are opened so that the content can be distributed to them.
For New Year, there is a tradition in England which implies that the first guest to go through the front door should be a young, dark-headed male bearing gifts such as bread (to be full), salt (to be wealthy) and coal (to stay warm).
There are plenty of Christmas and New Year's customs that may be surprising as they are different from one's culture. Whatever festivity you celebrate, BT wishes you to have a joyful time with your beloved ones and a "prosperous" New Year.
By: Andrea Chetti