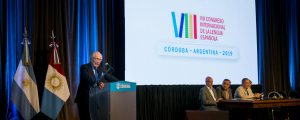 The CILE (International Congress of Spanish Language) is a salient event about Spanish language and culture that gathers linguists, journalists, writers, translators from all around the world and all kinds of people interested in various aspects of Spanish. At this conference, topics related to the current state of affairs of Spanish language are discussed. The International Congress takes place every 3 years; and our city, Córdoba, has been chosen as the host for its eighth edition. From the 27th to the 30th of March, Córdoba will welcome many well-known figures, including the King and the Queen of Spain, who will be opening the congress together with the Argentine president Mauricio Macri. At this opening event, other famous people will be present, such as the Peruvian writer Mario Vargas Llosa, and the Argentina-born poet and Portuguese translator Santiago Kovadloff.
The people and organizations that make this possible are the leading entity in Spanish vocabulary and grammar rules Real Academia Española (RAE), the Argentine Government, its Ministry of Education, the National University of Córdoba, and several other private and public institutions.
With the slogan "América y el futuro del español. Cultura y educación, tecnología y emprendimiento" (America and the Future of Spanish. Culture and Education, Technology and Entrepreneurship), the main focus will be on 5 topics: Spanish as a universal language, interculturalism, challenges of teaching Spanish in the XXI century, digital revolution, competitiveness of Spanish as a language for innovation and entrepreneurship. These 5 pillars will branch out into subtopics regarding the current position of Spanish, problems, and challenges.
Apart from the international conference, the "Festival de la Palabra" (The Word Festival) will also take place. This festival is held before and during the congress as preparation for CILE and complement of it. Through the "Festival de la Palabra", the rich and varied art of Córdoba will be appreciated. Books will be presented, and there will be art exhibitions and entertainment, such as plays, concerts, and workshops for both adults and children. The underlying idea of it is to avoid reducing this event to just linguists and grammarians. Thus, by offering a great variety of activities from interactive games to music concerts without any cost, everybody can become involved.
CILE is a congress of paramount importance for the Spanish language as its key aim is to raise awareness of the responsibility the Government, various institutions and people have in fostering the language, bearing in mind that each language is part of cultural heritage. At Baquero Translations, we are glad to be in the city where there will be a rich exchange of ideas and hope that everybody gains a new perspective on different aspects of Spanish.
By: Andrea Chetti