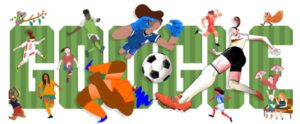 Many well-known newspapers, such as The New Yorker, The Guardian, El País, and La Nación are posting articles about FIFA Women's World Cup with information about each football match, details of the French cities hosting this event, different female football players' opinion, among others. This cup has become so widely known that even Google has been dedicating doodles to the Women's World Cup, one for each day.
The increase of media coverage of an event historically related to men, speaks about the great steps women have made towards equality. Recently, the first professional women's league was established by the Argentine Football Association (AFA). This newly-created league will support 16 female football teams for the first time. The support means providing a place of work, i.e. appropriate facilities, and basic elements needed for training, and ensuring that, at least, 8 players have a professional contract. It is no coincidence that this success was achieved after two major events were made public: Macarena Sanchez's claim and the national football team's complaint. The former refers to a demand from a football player to be recognized as a worker, which led to her expulsion from the team. This event reached a large audience thanks to the posts of many newspapers, and likes and shares on social media- it even became a trending topic on Twitter. The latter has to do with a popular photo showing the national team players posing with their hands behind their ears. Argentine players made this gesture in a sign of protest for not being heard –they had claimed to have their basic needs met, such as appropriate pitches, clothing, and travel allowance with no success. The picture circulated and echoed loudly.
Unlike other industries or sports fields, the translation industry is an industry where women have always had a strong and world-wide-heard voice. At BT, we support diversity in all its forms and are happy to work in a gender-equal environment.
By: Andrea Chetti