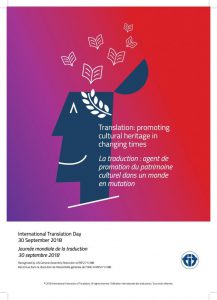 Finally came the day of the year when we celebrate: International Translation Day! Every September 30th translators beam with pride while receiving greetings from colleagues and close friends.
Officially, it all started with Saint Jerome, who translated the Bible from Greek into Latin. With this project, he was also the precursor of the translation theory "sense by sense", as this was the methodology he applied and defended against the advocators of translating word by word. Even though at that time-IV century-, the people who translated were not recognized as professionals, this set an official precedent of our work.
In 1953, the International Translation Federation (FIT) established the day of the death of Saint Jerome as Translators' day.
Since then, the FIT has promoted the festivity of this day, and, in 1991, it established the official International Translation Day in order to reach out to more people across the world and to clear away the religious connotation this day previously had. Every year, the FIT commemorates it with a particular theme. This year, the theme proposed was: "Translation: promoting cultural heritage in changing times". The idea behind this topic is to shine a light on the importance of translation in understanding different cultures. Besides, the selected topic is linked to the United Nations' 2019 theme: "International Year of Indigenous Languages". The FIT invited all members to celebrate and share the poster in our article from September 24th to 30th.
The UN has also taken part in the commemoration and recognition of translators' role as last year the resolution 71/288 was issued by the United Nations General Assembly. In this resolution, apart from recognizing the 30th of September as the International Translation Day, they stated: "International Translation Day is meant as an opportunity to pay tribute to the work of language professionals, which plays an important role in bringing nations together, facilitating dialogue, understanding and cooperation, contributing to development and strengthening world peace and security." From this perspective, translators are regarded as bridges between cultures.
The American Translation Association (ATA) could not miss this celebration and joined the party. They suggested educating the public, which means to clarify certain misunderstandings by sharing images in various kinds of social media, such as Facebook, Twitter or Instagram. These images show typical questions made by people who are not so close to the language industry.
Here in Baquero Translations, our staff have also joined the commemoration and wished a fantastic day to all translators. We understand the significance and impact of translation in today's world; that is why we put so much emphasis on quality. Thus, this Sunday was a special day to thank all the people that work with and accompany us in this quest for excellence.
By: Andrea Chetti