Translation is our specialty
At Baquero Translations, clear communication is our passion and translation is our specialty. We offer translation into and from more than 40 languages, state-of-the-art technology, professional translators, effective communication, flexibility, quality, competitive prices, and minimum risk.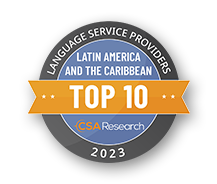 Do you need to reach NEW MARKETS?
Because millions of words are translated daily and not always accurately, our mission is to give your translated communications the same impact as the original message. That's why we are here and we want to be your partner!
Do you need to COMMUNICATE FLUENTLY and WITHOUT MISUNDERSTANDINGS?
We communicate through language. Whether in writing, orally or through images, your success will largely depend on conveying your ideas effectively.
LET'S MEET
Since 2001, we have formed a fully trained, skilled and reliable team of project managers, linguists, and DTP experts who can anticipate potential problems in a project, so that, regardless of the language and subject matter, it is completed seamlessly within the agreed time frame.