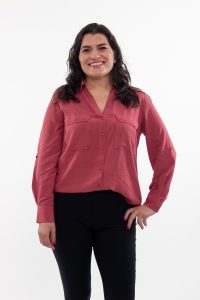 Production Manager
Localization Manager (TILP Certified)
As a Production Manager, Natalia Szachta is responsible for overseeing the general production process in the company. Her attention to detail and capacity to adjust to clients' requests together with expertise in CAT tools and project management make her an exceptional professional in her position.
Prior to BT, Natalia was part of the former company Texo SRL. Her curiosity and fast learning abilities enabled her to be quickly promoted from being a Secretary to Project Manager and to Production Manager.
Natalia has a key role in Baquero Translations as she performs multiple and varied tasks, ranging from invoicing to complying with clients' standards.
*Curious fact: When she is not making possible the impossible, Natalia likes to cook exquisite and healthy meals, ranging from hot meals to desserts.