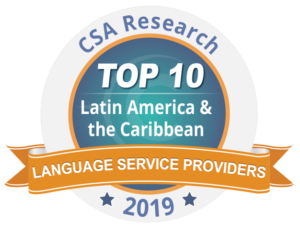 CSA Research, a w
ell-known consulting company in the language industry -which every year carries out research about language companies and their performance announced last week the top-
ten ra
nked companies in each region. And, Baquero Translations made the Top 10 and is ranked amongst the largest Language Service Providers in Latin America and the Caribbean.
At Baqu
ero Translations, translation is our passion and we always go the extra mile to make intercultural communication effective and accurate. Think of all the things you wouldn't have access to if they had not been translated into your language. Think of all the things you would have access to if they were in your language. Surely, you must have missed thousands! Consider the websites, software or games you don't pay attention to because they are not in your language.
CSA Research found that the market for language services and supporting technologies will grow 6.62% from 2018 to 2019, however, the 100 largest LSPs grew at 20.08%. Our aim for this year is 25%. At BT, we would really like to thank and make this distinction extensive to our team of Managers, Project Managers, QA Managers, Linguists, DTPers, IT specialists, Sales Reps, and consultants for leaving their heart and soul in every project! Juan Andrés Baquero Director.