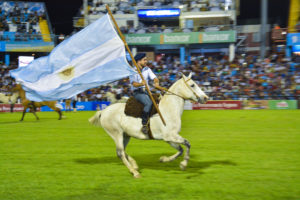 One of the best ways to learn the culture of a country is through traditional festivals. In Argentina, there is a great variety of traditional celebrations carried out since the XIX century. Several cities in Argentina have, at least, one traditional festival, which can range from commemorating music to local drinks. Some of them are well known, such as the festival of the grape harvest in Mendoza, while others are only known and celebrated by the people who live in those regions. In Córdoba, in the city of Jesús María, there is one main festival in January:
Festival Nacional de Doma y Folklore
(National Festival of Taming and Folk Music). This event consists of a horse-taming competition which, at the same time, is an entertainment. Also, it includes shows, such as concerts and traditional dances. The first celebration was held in 1966 with the aim of raising funds for schools. After half a century, this objective is still present and each year a great percentage of the profits from the festival —50% to 60%— is distributed among 20 schools. In the west of Argentina, there is another national festival: "
Fiesta Nacional de la Vendimia
" (National Festival of Grape Harvest). This annual celebration begins on the last Sunday of February and finishes on the first Saturday of March. It has four main events:
Bendición de los frutos
(Blessing of the Fruits)
Vía blanca de las reinas
(White Route of the Queens),
Carrusel
(Parade Float) and
Acto central
(Central Act).
Bendición de los frutos
marks the start of the celebration. Through this blessing, saints are thanked for the good harvest.
Vía Blanca
and
Carrusel
consist in a parade of the beauty princesses and queens from different cities that belong to the province of Mendoza. Each queen stands on a float designed according to the economy and symbols of the city she represents. In the
Acto Central
, the National Queen of Grape Harvest is chosen and there is a great show of typical music and dance. The grape harvest festival has been celebrated since 1936. The main reason was to commemorate not only the fantastic transformation from grape to wine but also all the hard work of the people at the vineyards, labs, and wineries. In the north-east of the country, in the city of Gualeguaychú, province of Entre Rios, there is a highly popular event: Gualeguaychú's Carnivals. These carnivals take place each year, at weekends in January and February. They involve a parade at which several official groups dance to cheerful music similar to the Brazilian samba. Each group has a theme, and has to design their carnival suits and floats accordingly. Their original designs are handmade, made with sequins and feathers, and are part of the entertainment. Similar to the festivals previously mentioned, competition is part of the celebration. Thus, the best design, dance, and group are chosen. Since the end of the XIX century, carnivals have evoked the joy in the heart of people. In Córdoba, Baquero Translations' place of origin, is now celebrating the
Festival Nacional de Doma y Folklore
. We recognize the importance of promoting national and regional traditions as they constitute a pivotal element in our country's identity. By: Andrea Chetti